Okay, okay. I found
this book
: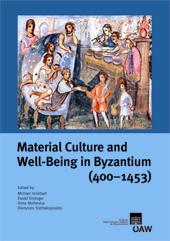 I looked through the table of contents, and it's in English (which is good, because I don't read, um Dutch? German? If I can't tell what it is, I certainly can't read it). It's full of really obscure information that is useful to us, such as types of incense, material culture, clothing, houses, and other interesting subjects. It's essentially a collection of academic papers from an international conference on the subject.
It's 78 Euro to purchase, so if anybody finds a source that's cheaper, that would be awesome.
The wikipedia article on
Byzantine dress
is mostly an overview, but is interesting because of the photo of a glove about halfway down the page, which, although late in the Byzantine period, shows an excellent example of the ostentation of the embroidery:
Some of the links at the bottom of the article contain images from the same exhibit at Palermo, (such as this one:
)
and also an
exhibit at the Met
. The rest of the links are mostly things that I think the ChickenGoddess has mentioned previously, but the article collects them into one single list quite nicely.
And then after I posted, I found this:
Plates and things, and I'm looking for something that shows me eating utensils (there is the legend about the Byzantine princess/queen introducing the fork to the uncivilized peoples of Europe, so I'll see if that has any truth).
And that's all I've got for now, folks. Let me know if I'm repeating anything...